Battlefield Tragedy, 1862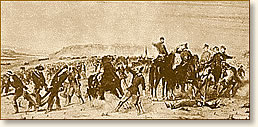 The battle at Gaines Mills during
during the Seven Days campaign


T

he series of battles that took place around Richmond between June 25 and July 1, 1862, are known as the Seven Days' Campaign. These included clashes between Union and Confederate forces at Gaines Mill, Savage Station, Glendale and Malvern Hill. The battles marked the end of the Union's Peninsula Campaign, which attempted to bring an end to the war by capturing Richmond.

Each of these battles was hard fought in searing heat with appalling casualties on both sides. At the final engagment - Malvern Hill - General Lee ordered his Confederate infantry to assault the entrenched Union troops. In reply, well-placed Union artillery cut the advancing Southern forces to shreds, prompting one Confederate general to later exclaim "this was not war - this was murder."

When the seven days of fighting were over, Lee counted 20,000 men lost while Union commander McClellan tallyed 11,000. Little of strategic value was gained. General McClellan withdrew his Union troops to the north allowing General Lee to begin his attacks on Union positions in Northern Virginia.

Battle at Malvern Hill

The Civil War could literally tear a family apart, pitting brother against brother or father against son as each rallied to the flag of the cause that captured his heart. There is no more dramatic evidence of this than the encounter that took place on the battlefield at Malvern Hill July 1, 1862. Captain D. P. Conyngham was an officer in the Irish Brigade and described the incident shortly after the war:

"I had a Sergeant Driscoll, a brave man, and one of the best shots in the Brigade. When charging at Malvern Hill , a company was posted in a clump of trees, who kept up a fierce fire on us, and actually charged out on our advance. Their officer seemed to be a daring, reckless boy, and I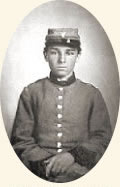 Private Edwin Jemison
2nd Lousiana Reg.
Killed at the Battle of
Malvern Hill


said to Driscoll, 'if that officer is not taken down, many of us will fall before we pass that clump.'

'Leave that to me,' said Driscoll; so he raised his rifle, and the moment the officer exposed himself again bang went Driscoll, and over went the officer, his company at once breaking away.

As we passed the place I said, 'Driscoll, see if that officer is dead - he was a brave fellow.'

I stood looking on. Driscoll turned him over on his back. He opened his eyes for a moment, and faintly murmured 'Father,' and closed them forever.

I will forever recollect the frantic grief of Driscoll; it was harrowing to witness. He was his son, who had gone South before the war.

And what became of Driscoll afterwards? Well, we were ordered to charge, and I left him there; but, as we were closing in on the enemy, he rushed up, with his coat off, and, clutching his musket, charged right up at the enemy, calling on the men to follow. He soon fell, but jumped up again. We knew he was wounded. On he dashed, but he soon rolled over like a top. When we came up he was dead, riddled with bullets."

References:
Conyngham, D.P., The Irish Brigade and Its Campaigns, With Some Accounts of the Corcoran Legion, and Sketches of the Principal Officers, (1867) (reprinted in Botkin, B.A., A Civil War Treasury of Tales, Legends and Folklore, 1960); McPherson, James P, Battle Cry of Freedom: The Civil War Era, (1988)

How To Cite This Article:
"Battlefield Tragedy, 1862" EyeWitness to History, www.eyewitnesstohistory.com (1999).