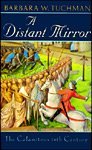 A Distant Mirror: The Calamitous 14th Century




by Barbara Wertheim Tuchman $12.57 *


In this sweeping historical narrative, Barbara Tuchman writes of the cataclysmic 14th century, when the energies of medieval Europe were devoted to fighting internecine wars and warding off the plague.

---

The Bayeux Tapestry: Monument to a Norman Triumph
by Wolfgang Grape $28.00 *


---
The Thought of Thomas Aquinas




by Brian Davies 44.95 *


Thomas Aquinas was one of the greatest Western philosphers and one of the greatest theologians of the Christian church. In this book we at last have a modern, comprehensive presentation of the total thought of Aquinas. Books on Aquinas invariably deal with either his philosophy or his theology. But Aquinas himself made no arbitrary division between his philosophical and his theological thought, and this book allows readers to see him as a whole. It introduces the full range of Aquinas' thinking

---

Year 1000, The: What Life Was Like At the Turn of the First Millennium
by Danny Robert/Danziger Lacey 44.95 *
The Year 1000 is a vivid and surprising portrait of life in England a thousand years ago. A world that already knew brain surgeons and property developers and, yes, even the occasional gossip columnist. Uncovering such wonderfully unexpected details, authors Robert Lacey and Danny Danziger bring this distant world closer than it has ever been before. How did people survive without sugar? How did monks communicate if they were not allowed to speak?

---