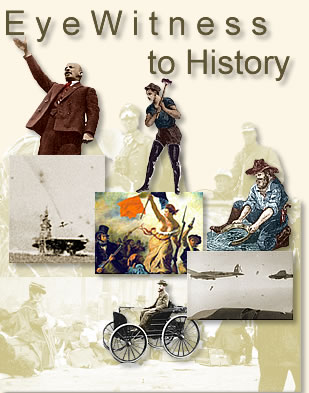 Place your cursor on an image for more information
Click for an EyeWitness Account
Your ringside seat to history - from the Ancient World to the present. History through the eyes of those who lived it, presented by Ibis Communications, Inc. a digital publisher of educational programming.




Alexander the Great Defeats the Persians, 331 BC
"...general terror smote Darius, whose courage already had been shaken; so that he was the first to turn and flee." Alexander defeats the feared scythed-wheeled chariots of Darius III and conquers Persia.


The Charge of the Light Brigade, 1854
"They swept proudly past, glittering in the morning sun. . ." In an incident later immortalized by poet Alfred, Lord Tennyson, a reporter describes the headlong charge of a British cavalry unit into murderous Russian gunfire.






"Be yourself; everyone else is already taken." Oscar Wilde. - (1854-1900).