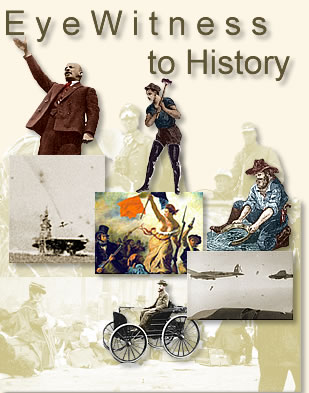 Place your cursor on an image for more information
Click for an EyeWitness Account
Your ringside seat to history - from the Ancient World to the present. History through the eyes of those who lived it, presented by Ibis Communications, Inc. a digital publisher of educational programming.
Slavery in America. . .

Slave Trade: the African Connection, 1788.
"Most of the Negroes shipped off from the coast of Africa are kidnapped." The beginning step of the journey into slavery.

Aboard a Slave Ship, 1829
"The slaves were all inclosed under grated hatchways between decks." A minister recounts his experience of boarding a slave ship stopped off the coast of Africa.





The Boston Tea Party, 1773
"We then were ordered by our commander to take out all the chests of tea and throw them overboard." The colonials get serious about their tea, and ignite the American Revolution.

The Wright Brothers' 1st Flight, 1903.
"I got on the machine at 10:35 for the first trial." The Wright brothers make history on a windy North Carolina beach.






"The true sign of intelligence is not knowledge but imagination." Albert Einstein (1879-1955)





Please
Contact us
with your comments, questions or suggestions.