If you became ill in the 1700s there was greater chance that an encounter with a physician would do more harm than good. Although improving, medical knowledge at the time was incomplete and based largely on theories developed in ancient Greece. Physicians had a limited knowledge of the workings of the human body. The awareness of the relationship between germs and disease would not be revealed until the next century. The physician did not conduct a thorough physical examination to ascertain the problem. Rather, the doctor relied on the patient's description of his or her ailment to point the way to a diagnosis.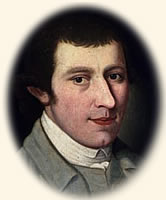 A prevalent explanation for illness was that it was due to an internal imbalance or loss of harmony within the body. Blood-letting was a favorite procedure intended to restore the body's internal equilibrium. Drugs, ranging from arsenic to herbal potions were prescribed in an effort to calm the raging forces within the body. Rather than curative, these procedures would often accelerate the patient's ill health. All in all, the 18th century was not a good time to be a patient.

In June 1774, Nicholas Cresswell needed to see a doctor. Cresswell was a twenty-four-year-old Englishman who had sailed to the colonies a month earlier seeking adventure. He was confident that America was where he could make his fortune, enabling him to declare his independence from his family back home in the English Midlands. We know this because Nicholas kept a journal of his adventure through which he describes his dreams and aspirations.

He also tells us that in June of 1774 he was journeying from Annapolis, Maryland to Alexandria, Virginia with a party of travelers when he suddenly fell ill. Persuaded to seek the care of a doctor, his notes provide us insight into what it was like to be a patient in the 18th century.

We join Nicholas's story as he suddenly becomes ill and is persuaded to call a doctor:
"Piscataway, Maryland - Tuesday, June 7th, 1774.

This morning Captain. Knox and I left Annapolis. Dined at Marlbro, Lodged at Piscataway. A most violent pain in my Head attended with a high Fever, obliged to stop and rest myself at several houses on the road. Captain. Knox behaves exceedingly kind to me.

Wednesday, June 8th, 1774.

Got to Port Tobacco with great difficulty. Captain Knox insists on me applying to Doctor Brown. I have taken his advice and he told me it is a Fever with some cussed physical name. He has given me some slops and I am now going to bed very ill.

Nanjemoy, Maryland - Thursday, June 9th, 1774

Find myself no better, However, the Doctor has given me more physic. Got to Nanjemoy. Almost dead with pain and fatigue, added to the excessive heat, which caused me to faint twice.

Wednesday, June 15th, 1774.

Very ill, confined to my room. This is the first day I have been able to stir out of it. I am much reduced and very weak, but my spirits are good and I hope in God I shall get better. Captn. Knox, Mr. Bayley, and the whole neighborhood behaves with the greatest kindness to me, some of them has attended me constantly all the time.

Friday, June 17th, 1774.

Much better. The Doctor tells me I am out of all danger, but advises me to take some physic to clear my body and to drink a little more Rum than I did before I was sick. In short, I believe it was being too abstemious that brought this sickness upon me at first, by drinking water.

Saturday, June 18th, 1774

Able to walk about the house. It is such excessive hot weather or I should mend faster.

Sunday, June 19th, 1774

Dined at a certain Mr. Hambleton's. Supped and spent the evening at Mrs. Leftwiches with some young ladies from Virginia. After supper the company amused themselves with several diverting plays. This seems very strange to me, but I believe it is common in this Country. Find myself much better today. Hope I shall be able to go to Alexandria next week.

Monday, June 20th, 1774

Gathering strength very fast, the Doctor sent me a Box of Pills with directions to take two at night and two in the Morning. These are the last I intend to take. Dined at Mrs. Leftwiches. After went over to Virginia with some young ladies, but returned in the evening.

Wednesday, June 22nd, 1774.

Taking the Pills the Doctor gave me, but these don't seem to work, only cause a bad taste in my mouth. Will take three this evening.

Thursday, June 23rd, 1774

This morning took 4 Pills which has caused a violent pain in my bowels all day, attended with a constant thirst and a very bad taste in my mouth. But affects me no other way. . .

Friday, June 24th, 1774

Much worse, my throat and tongue much swollen. Have sent for the Doctor. Confined to my bed. Am afraid that I am poisoned with his confounded Pills. A continual thirst, but these people will not let me drink.

Saturday, June 25th, 1774.
Captain. Knox sent an express for the Doctor, who came about eight this morning. After he had examined the Pills, he came with a truly physical face to the bedside and felt my pulse. Began to beg pardon for the mistake he said his Prentice had inadvertently committed by sending me strong Mercurial Pills, in the room of cooling ones. I immediately gave him as hard a blow as I could with my fist over the face, and would have given him a good trimming had I been able. This discomposed his physical muscles a good deal, and made him contract them into a most formidable frown. He did not attempt to resent it. Begged I would moderate my passion, follow his directions, and in a short time I should be well again.

I believed myself poisoned and grew desperate, abused him most unmercifully. However, he left me some Brimstone and Salts which I took immediately after he was gone, which worked very well and has given me a great deal of ease. Tho' I am still full of pain and much swelled, spitting and slavering like a mad dog, my teeth loose and mouth very sore. I believe I have little to trust to but the strength of my constitution for my life. Much difficulty to write, but if I happen to die I hope this will appear against the rascal.

Sunday, June 26th, 1774

This morning took a dose of Brimstone, laid in bed all day and sweat abundantly. This has made me very weak and faint. Doctor came to enquire after me, but did not come into the room. Much easier.

Monday, June 27th, 1774.

A great deal better but much relaxed and very weak, able to sit up most part of the day.

Wednesday, June 29th, 1774

Mending very fast, able to walk about the room. The swelling gone away, my throat got well, but my mouth is very sore, which I wash every two hours with Vinegar. I understand the Doctor sends every day to enquire how I do. Had it not been for the extraordinary care of Captn. Knox, I must certainly have died.

Thursday, June 30th, 1774.

Took a dose of Salts, able to walk into the Yard.

Saturday, July 2nd, 1774.

Continue mending, but very slowly.

Sunday, July 3rd, 1774

Rode out with Mr. Wallace to Colonel Tayor's Plantation. It is only two miles, but I find it has fatigued me too much.

Tuesday, July 5th, 1774.

Took another dose of Salts, which I hope will be the last I shall have occasion to take at this time. Find myself pretty well. Free from pain, but very weak and much reduced. My clothes hang about me like a skeleton. The Doctor has never come in my sight since I struck him. Intend to go and pay the rascal to-morrow.

Wednesday, July 6th, 1774.

Went to see the Doctor, who (contrary to my expectation) treated me with the greatest kindness and acknowledged that he had given me just cause of complaint, though inadvertantly, and absolutely refused being paid till I am quite recovered. I understand their Doctors' Bills in this country are very extravagant. Returned to Nanjemoy [Maryland] much fatigued."
References:
This eyewitness account appears in: Cresswell, Nicholas, The Journal of Nicholas Cresswell 1774 – 1777 (1924); .
How To Cite This Article:
"Getting Sick, 1774" EyeWitness to History, www.eyewitnesstohistory.com (2008).