Shot Down Over France, 1944
On the morning of March 5, 1944, Flight Officer Charles Yeager strapped himself into his P-51 fighter and joined a mission to attack targets in the Bordeaux area of France. The twenty-one-year-old Yeager occupied the "tail end Charlie" position of his four-plane flight - the most vulnerable place to be. However, Yeager was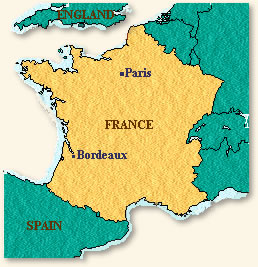 no novice. He had three months' experience in combat and had already shot down two German aircraft. On this day his luck was to change.
As the flight neared its objective, three German FW 190 fighters suddenly attacked from the rear, targeting Yeager's P-51. Caught by surprise, the young pilot tried to evade his attackers but to no avail. The enemy's gunfire slammed into his aircraft, severing his control cables and forcing Yeager to jump for his life.
Successfully escaping his plane, his parachute open, Yeager was still not out of trouble. As he floated to earth, one of the FW-190s turned and dove on the vulnerable pilot with the intent of finishing him off. The enemy fighter grew larger and larger in his vision but Yeager could do nothing but hang helplessly suspended from his silk canopy. Suddenly, the German plane burst into a fireball - its pilot so intent on his deadly mission that he had not seen the P-51 on his tail.
Within minutes after his landing, Yeager was surrounded by French Resistance fighters and beginning his escape journey that would take him to Spain, Gibraltar and back to England. Three and a half years later, the young pilot would make his mark in history as the first to break the sound barrier.
Parachuting Into the Unknown
After Yeager successfully made his way to Gibraltar he filed a written report of his experience and was debriefed by a British intelligence officer. The following is excerpted from these reports: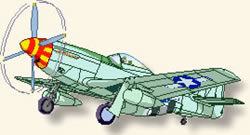 P-51 Mustang


"Three FW 190s came in from the rear and cut my elevator cables. I snap-rolled with the rudder and jumped at 18,000 feet. I took off my dinghy-pack, oxygen mask, and helmet in the air; and then, as I was whirling on my back and began to feel dizzy, I pulled the ripcord at 8,000 feet. An FW 190 dove at me, but when he was about 2,000 yards from me a P51 came in on his tail and blew him to pieces.

I landed into a forest-clearing in which there was a solitary sapling about twenty feet tall. I grabbed the top of the sapling as I passed it and swung gently to the ground. My chute was hung up in the tree, however, I hid my mae west and started off to the south-east, for I thought that I was in the forbidden zone. Before I had gone 200 feet half a dozen Frenchmen ran up to me. Some of them got my chute down, and one of the men took me by the arm and led me to a house some 200 yards away. There I was given food and civilian clothes. A gendarme was seen approaching the house at this moment, and so I was quickly hidden in the barn. When the gendarme left I was brought back into the house where one of the men who had left the group now returned and gave me a note in English telling me to trust the people in whose hands I was. I was then taken to another house about a kilometer away, and from there my journey was arranged."

Escape

The house to which Yeager was taken was actually a hotel run by an English-speaking French woman and her daughter. The next morning the man who took Yeager to the hotel returned and took the pilot to the home of a ""fleshy, white-haired man and his family" where Yeager spent one night. The British debriefing officer continues the report whose content masks the life-threatening danger each of Yeager's benefactors places himself into.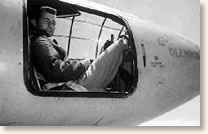 Chuck Yeager sits in the cockpit of
the Bell X-1, the plane in which he
became the first to break the
sound barrier, May 1948


"The next morning the same guide returned and took him by bicycle to a young couple of 35 years with a son, Jean, five years old who live in a farmhouse off RN133 near the lake at Font Guillem au Pujo between Pompogne and Houeilles. Here Yeager lived for seven days. Then a farmer from Houeilles took him to a house half a km. from Nerac. This is the house of the regional maquis (French Resistance) chief, Gabriel; and here Dr. Henri -, the doctor of all the maquis in this part of the country, lives when he is in the vicinity. After Yeager had been here a few days, Dr. Henri arrived in the Franbel (the name of a local pencil company) lorry and went after Nahl and the six sergeants with him whom he then brought to the maquis near Nerac. He then went back to Castel Jaloux and from there brought Seidel to the maquis.

On 25 March the Franbel lorry brought Nall, Seidel, and the six sergeants from the maquis, picked up Yeager, Dr. Henri and a Belgian lieutenant and drove to a farmhouse 4 kms. S. of Nerac. From this point Yeager's journey was the same as that of Seidel and Nall."

References:
National Archives, Escape and Evasion Case File for Flight Officer Charles (Chuck) E. Yeager (338-EECASEFILES-EECASE660-YEAGER).

How To Cite This Article:
"Shot Down Over France, 1944," EyeWitness to History, www.eyewitnesstohistory.com (1998).